Gladskin x Healthy Skin Show 2
Enter to Win the Eczemact™ Full Care Collection
In honor of Eczema Awareness Month, we're partnering with the Healthy Skin Show–our favorite skin health podcast hosted by clinical nutritionist Jennifer Fugo–and giving away our full collection.
Enter your email before 11/02/23 at 11:59 pm for a chance to win: 
1 bottle of Eczema Cream with Micreobalance® OR 1 bottle of Eczemact™ Soothing Cream for Babies and Kids (your choice) 
1 Body Lotion 
1 Body Wash 
1 Face Wash 
1 Makeup Remover 
1 Shampoo Bar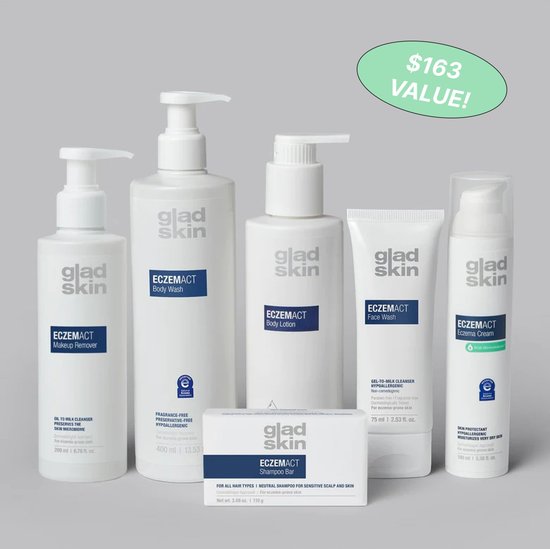 About Gladskin
Gladskin takes a gentle, microbiome-first approach to relieving eczema symptoms
Gladskin's Eczemact™ line offers minimally formulated, steroid-free products for adults and infants as young as 3 months old.
Just like your gut, your skin has an active microbiome made up of good and bad bacteria. When bad bacteria outnumber the good, inflammatory skin conditions like eczema can arise. Gladskin products with Micreobalance® restore healthy microbiome balance so your skin can thrive.
About Jennifer Fugo
The Healthy Skin Show is dedicated to inspiring hope in the chronic skin rash community
Jennifer Fugo, MS, CNS, LDN is a clinical nutritionist and host of the Healthy Skin Show podcast. With the Healthy Skin Show, she's on a mission to help you find alternative solutions to stop chronic rashes and rebuild healthy skin, so you can take your life back.