You don't need stronger ingredients. You need a smarter solution.
Microbiologists are finally decoding eczema, finding that nearly all people with eczema have a bacterial imbalance.
Gladskin with Micreobalance® was created to resolve this by restoring skin's healthy balance.
Meet Micreobalance®, the new smart protein.
Micreobalance® is a smart protein that defends against flare-causing bacteria and creates a healthy environment for good bacteria to thrive.
Scientifically speaking, Micreobalance® is an Endolysin SA. Endolysins are present everywhere on earth and act as nature's superheroes, policing the bad bacteria to protect the good.
Gladskin with Micreobalance® restores balance to the skin bacterial environment, also called the skin microbiome. Just like your gut needs a healthy balance of bacteria, so does your skin. A healthy skin microbiome means healthy skin.
Less bad, more good, get glad.
The life of an eczema flare
1
During a flare, bad bacteria outnumber the good
2
Gladskin with Micreobalance® is applied
3
After Gladskin with Micreobalance®, healthy microbiome and healthy skin are restored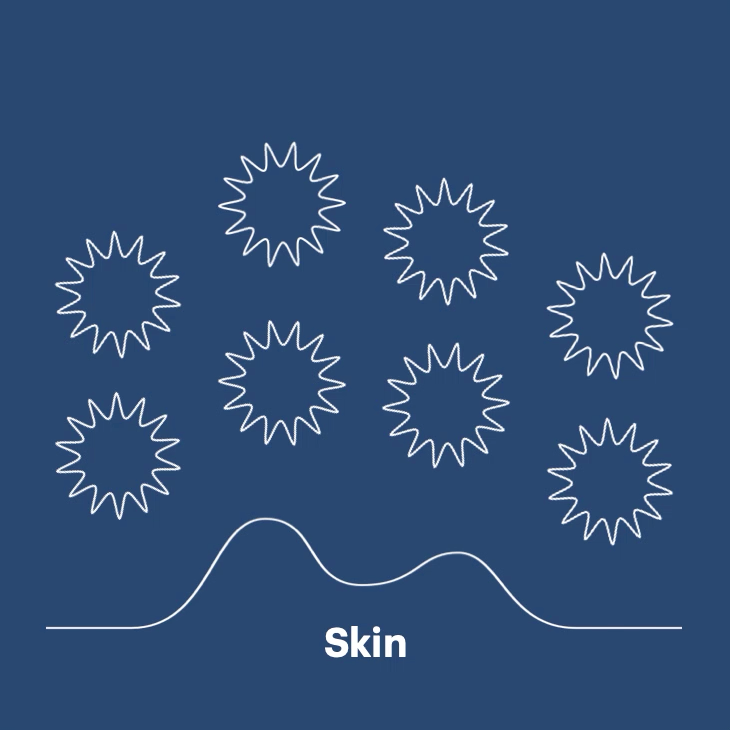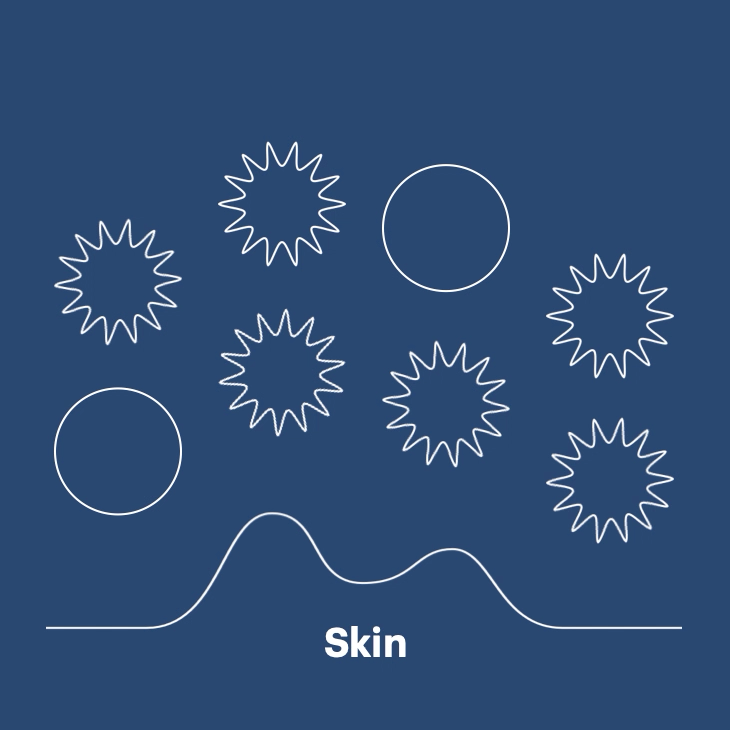 According to a recent study published in the Journal of Drugs in Dermatology, patients between 7 months and 57 years of age with mild to moderate eczema, using a formula with Gladskin's Micreobalance® ingredient at least once a day for two weeks reported reduced symptom severity like itchiness, redness, and tingling, while decreasing sleep loss, in virtually all subjects.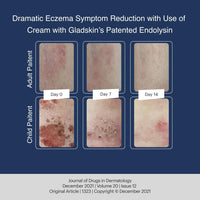 Hear experts talk about Gladskin
"It is a magic bullet that has almost no collateral damage, and is incredibly safe."
Gladskin works with the nature of your skin, not against it.
Gladskin works differently than steroids and traditional over-the-counter (OTC) drugstore products. These products don't rebalance the skin microbiome. Worse yet, they contain preservatives, which kill the good bacteria along with the bad. The good bacteria support healthy skin. Without good bacteria, your skin microbiome is weaker and more vulnerable. 
Steroid creams
Drug store
creams & lotions
Topical antibiotics
Targets bacterial imbalance, a root
cause of flares

Free of preservatives
No drug side effects
Safe to use as often
as desired

Moisturizes
Targets bacterial imbalance, a root
cause of flares
Free of preservatives
No drug side effects
Safe to use as often
as desired
Moisturizes
Safe and effective for infants and children.
Gladskin with Micreobalance® is recommended by pediatricians and dermatologists for children and infants over 3 months. Free of steroids, antibiotics and irritating preservatives, Gladskin soothes eczema prone-skin, and usually works within a few days.
More Information for Parents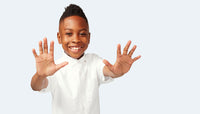 Issac D.
5 years
Gladskin user
Skin unretouched